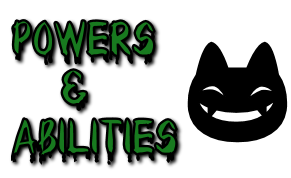 Agrokinesis is the power to control plant-life.
Definition
Agrokinesis or Phyllokinesis is the anomalous ability to mentally manipulate plant-life including wood, vines, plants, even moss.
Known Users
Similar Powers
Telekinesis
Arborkinesis (synonym)
Agrokinesis (synonym)
Botanokinesis (synonym)
Chlorokinesis (synonym)
Phytokinesis (synonym)
Phyllokinesis (synonym)
Phytogenesis (synonym)
Plantbending (synonym)
Plantlife Manipulation (synonym)
In The Film
Muriel uses this power to kill a tracker. When the Horned Witch is seen walking through the forest, she moves the branches in her way.
Image Gallery
Ad blocker interference detected!
Wikia is a free-to-use site that makes money from advertising. We have a modified experience for viewers using ad blockers

Wikia is not accessible if you've made further modifications. Remove the custom ad blocker rule(s) and the page will load as expected.