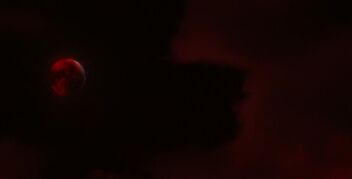 Blood Moon
or Hunter's Moon, the first full moon after the Harvest Moon. Harvest Moon and "Hunter's Moon" are traditional terms for the full moons occurring in autumn, usually in September and October, respectively. The "Harvest Moon" is the full moon closest to autumnal equinox, and the "Hunter's Moon" is the one following it.
Causes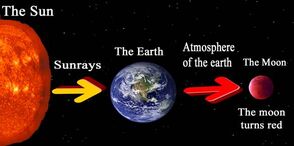 When the sun rays that come from the sun light go through the atmosphere of the Earth, they seem to carry take the environment of gases, air, carbon dioxide that people breath out, emotions, and the pollution of the Earth with them into the atmosphere of the Moon, and when it reaches the Moon, the appearance of the planet turns into blood (red moon).
Hansel & Gretel: Witch Hunters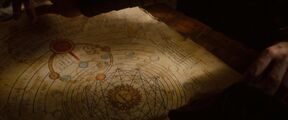 In the film,
Hansel
and
Gretel
found a paper on the
Tall Witch
which speaks of the 'Night of the Blood Moon' and 'Blood Moon Sabbath'. The witches collected twelve children, each born on a different month. They plan to use them along with heart of a
white witch
to gain the power to be immune to fire. Muriel had planned to use Gretel (a white witch), but her plan failed as Hansel and
Mina
stopped their gathering and later, killed Muriel.
Appearances/Mentionings
In Films
Bloodmoon (1990 film).
Bloodmoon (1997 film)
Wolf Girl
Red Riding Hood (2011 film)
Hansel & Gretel: Witch Hunters
In Literary Works
Blood Moon, a novel by Hal Lindsey
Blood Moon, a science-fiction novel by Sharman DiVono
Blood Moon, a novel by Garry Disher
In Videogames
The rising Blood Moon in Terraria.
The Elder Scrolls III: Bloodmoon, an expansion to the 2002 video game Morrowind
In Music
Blood Moon (album), a 2008 album by Apes & Androids
Sources