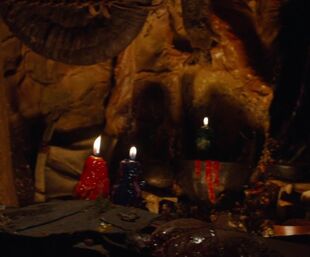 Candles are a tool used by the witches in the film.
Definition
Candles are solid blocks of wax with an embedded wick, which are used to provide light.
Usage by the Wiccan religion
The dancing flames of candles have been used as a Witches' tool for centuries. By setting the proper atmosphere, candles are used to help increase a spell's power, or to influence a particular power. Candles absorb one's personal energy and release this energy when burned Candle color is very important when performing magic, for each color emits a particular vibration and attracts certain influences.
In The Film
The
Gingerbread House
holds a number of candles as
Gretel
and
Hansel is
in it. Candles are also seen in the basement of
Hansel & Gretel's home
.
Gallery