Denix LeMat Non Firing Replica is a weapon seen in the film.
Hansel & Gretel: Witch Hunters
Sheriff Berringer (Peter Stormare) carries a Denix non firing replica Lemat revolver as his sidearm. The international poster for the film shows Hansel (Jeremy Renner) wielding two of these revolvers, but he doesn't use them in the film.
Sheriff Berringer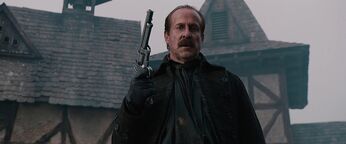 Sheriff Berringer uses the Denix LeMat Non Firing Replica to kill the
Mayor
.
Ad blocker interference detected!
Wikia is a free-to-use site that makes money from advertising. We have a modified experience for viewers using ad blockers

Wikia is not accessible if you've made further modifications. Remove the custom ad blocker rule(s) and the page will load as expected.