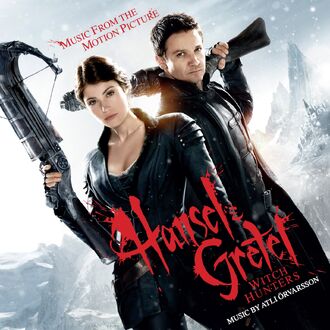 The film's soundtrack Hansel & Gretel Witch Hunters - Music from the Motion Picture was released in MP3 format by Paramount Music on January 22, 2013. The song "Bundy" by Norwegian rock band Animal Alpha, that is used for the film's end credits, is not included in the soundtrack.
Hans Zimmer worked on Witch Hunters as a music supervisor and Icelandic composer Atli Örvarsson (co-author of Zimmer's score for Pirates of the Caribbean: At World's End) worked on the film score. Örvarsson had previously scored Season of the Witch so initially he was "a bit apprehensive" to work on another witchcraft film but was "too fond of the story to say no and found Tommy Wirkola's take on the subject matter to be very refreshing. "Örvarsson found it easier to collaborate with Wirkola due to their shared Nordic heritage and said that their discussions about the music for the film "might have had some of the most cold and dark humor of any Hollywood music meetings."
Tracklist
Ad blocker interference detected!
Wikia is a free-to-use site that makes money from advertising. We have a modified experience for viewers using ad blockers

Wikia is not accessible if you've made further modifications. Remove the custom ad blocker rule(s) and the page will load as expected.