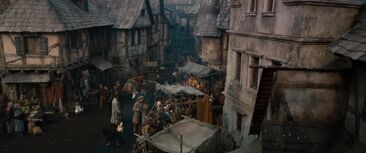 The Marketplace is a location seen in the film.
Appearance
The marketplace is big with lots of open space for trade.
Hansel & Gretel: Witch Hunters
The marketplace is seen as Hansel is buying children's clothes for an unknown reason. Mina then appears and converse with him. The two then walks for a while, then Hansel sits on a corner and injects himself with insulin as a result of his Sugar Sickness.
Gallery