"
Are you alright?
"

— Mina to Hansel
Mina is a main character seen in Hansel & Gretel: Witch Hunters.
Actor Portrayal
She is portrayed by Pihla Viitala.
Hansel & Gretel: Witch Hunters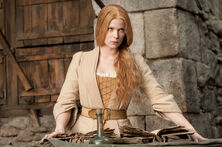 She was being accused of being a witch by Sheriff Berringer. The duo arrives and stops him while Hansel checked her. Mina meets Hansel at the market place. Later, she finds Hansel hanging from a tree. Mina takes Hansel to a spring to heal his wounds and has sex with him.
Later, after Gretel is taken, she heals Hansel with her magic and tells Hansel that she is a white witch. She helps Hansel and Ben kill some of the witches at the Blood Moon Sabbath after blessing their weapons to bypass the protection around the Sabbath area. During the final battle she is killed by Muriel.
Powers & Abilities
Basic Powers
Spell Casting: The ability to cast spells and perform rituals. Potion Making: The ability to brew potions.
Active Powers
Molecular Combustion She can make objects explode
Quotes
Main article: Mina/Quotes.
Relationships
She and Hansel were in a growing relationship.
She was helping Gretel until she was killed.
She was helping Ben until she was killed.
Etymology
In Dutch, the name Mina [MEE-nə] means- Protector.Mina in Sanskrit means Fish, one of the protective sigils. Other origins for the name Mina include - Dutch, Japanese, German,Sanskrit(Indian Languages).
Gallery