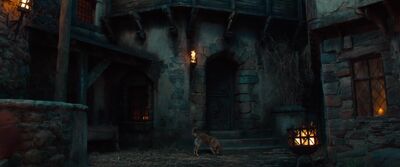 The station house
is a location seen in the first
film
.
Appearance
It is a police and fire station. It is place for the confinement of people accused or convicted of a crime.
Hansel & Gretel: Witch Hunters
The Sheriff appoints trackers to look for lost children in the woods. The station house was used to interrogate the Horned witch. Later, as a building of Augsburg is under fire and Muriel is seen entering the station house. She manages to kill Jackson after confronting Gretel.
Gallery