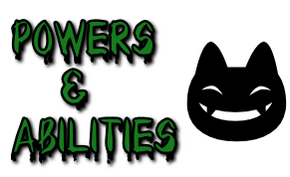 Telekinesis is the power to manipulate objects with the mind.
Definition
Telekinesis is the psychic ability to directly influence objects using our mind. We can use telekinesis to move objects, but we can also use it to manipulate time, elements, space, and energy. Telekinesis can also be used to distort material items and has been cited as the power used to manipulate random number generators.There are two levels of it: Micro and Macro Telekinesis. Micro Telekinesis is used to move small objects, influence random number generators, chances, and events. And Macro Telekinesis is shutting/opening doors, windows, levitation, Movement of heavy and huge objects and so on.
Known Users
Horned Witch (in the form of Agrokniesis)
Redhead Witch
Tall Witch (in the form of Deviation)
Similar Powers
Agrokniesis
Aquakinesis
Pyrokinesis
Psionic Manipulation
Omnikinesis
Biokinesis
Cryokinesis
Deviation
Telematerialization
In The Film
This power is seen in multiple ways and multiple times in the film. The Tall Witch uses deviation to deflect Hansel's attack. The Redhead Witch uses a form of Telekinesis to kill Lucas's mother and seconds later, him. She also uses it when battling Hansel during the raid of Augsburg. Muriel uses Agrokinesis to kill a tracker in the woods. She also uses telekinesis on Edward.
Image Gallery