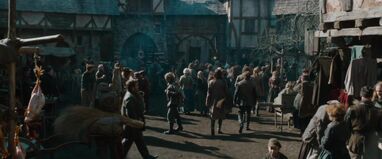 The Town Square is a location seen in the film.
Appearance
The town square is always filled with people. It is located in the middle of Augsburg.
Hansel & Grete: Witch Hunters
The town square is seen in the beginning of the film as the Sheriff is accusing Mina of witchery. Hansel & Gretel arrive to stop him. Hansel then checks Mina of signs of black magic. Then they introduce themselves.
The location is also seen in the extended version of the film. The sheriff is accusing the mayor of causing the witch plague and he kills him.  
Gallery