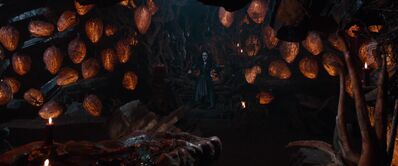 The witch's lair
is a location seen in the
forest
.
Appearance
It is a huge sanctuary for witches. It is located underground and another haven is seen at the side of a mountain.
Hansel & Gretel: Witch Hunters
Muriel arrives at the lair and meets the Horned and Redheaded Witch. They had brought a boy and used him to create a potion that was used on the Horned Witch. The potion made her immune to fire for a short moment.
Edward is seen in the lair, feeding the children. Gretel is seen in the lair after being abducted by Murel. The witch's had used the mountain lair for the Blood Moon Sabbath.
Gallery
Ad blocker interference detected!
Wikia is a free-to-use site that makes money from advertising. We have a modified experience for viewers using ad blockers

Wikia is not accessible if you've made further modifications. Remove the custom ad blocker rule(s) and the page will load as expected.